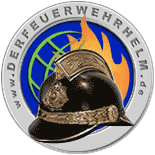 Privacy
Imprint
NS-Symbols
You are interested on the fire helmets of the new generation?

With this area I would like to give you a summary of the manufacturers and helmet types.
I would like to make the search for a helmet suitable for you easier with this overview, because I know, that nothing difficult is, than from innumerable web pages and brochures seeking the suitable information together.
Should you be interested in one of the introduced helmets, so you don't shun yourself, mentioning the company in question. The competent technicians are glad to help you at your decision.

I would like to say thank you for the support of the helmet manufacturers in this place.
Since the new helmet generation is so various, it wouldn't have been possible for me without the support of the manufacturers, taking these helmets in my collection and introducing them to you .

I have organized the manufacturers alphabetically followingly.

Please click onto a logo for further informations.
Choose a manufacturer