With the beginning of the collection was for me first merely the preservation of, in my opinion, irreplaceable witnesses in the foreground. And I have placed no value on the appearance of emblems of the past or the suitability of various new helmets in everyday life use. Without the aim and the plan, the collection set up "complete", I did it, over time, put together a fairly representative collection. My collection does not claim to be exhaustive.
The explanations of the collectibles is largely based on the testimony of contemporaries, literature or some very detailed information of fellow collectors and foreign firefighters. I was initially not important to note technical finesse or pure citations of relevant DIN and EN standards. The descriptions were rather intended to describe the helmets without images, so also their appearance often described in great detail.
The numbering of the various collectibles was previously in order of acquisition, and therefore appears in the summary table in the country rather arbitrary.
I would now like to describe the subsequent development, and the construction of the collection shortly.
I started my collection in 1995, when I acuired at a flea market in Freiburg my first fire helmet, a M43 in black with the stamp of the company Ziegler. At that time, I was not long a member of a volunteer fire department and was therefore interested in everything wich had to do with the fire brigade. Having thus the interest to the helmets of the past was piqued, so I advertised in the local newspaper and was able to create the basis for my collection.
During description of these helmets helped me the descriptions of the former owners and collectors, who knew also about the militaria well. So I got gradually a better knowledge about the topic and various materials, even with the appropriate description. Because it was important to me, not only to get helmet for helmet in my collection, but also to know what I have, I have noted from the beginning, what I knew about my helmets. Over time, the descriptions were then becoming more extensive and profound.
A big help was there also the literature of Bolko Hartmann oder Thomas W. Herminghaus.
Through the partnership of our fire brigade to fire brigades in Croatia, it finally came to the fact that I got my first 'swap helmet ". With the aluminium helmet "Wiener form" thus began, at the beginning of 1999, the interest in the foreign models. Perhaps it was also because at that time, I already had a small, comprehensive collection of German helmets.

In 2000, I was able to add the first highlight in my collection. As number 33, I received a spiked helmet of the German Empire, Free State of Baden. Another highlight in the same year, was the purchase of a new helmet from CGF Gallet F1A PA 45.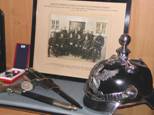 Gradually, I heard about collectors who could show some enormous collections and relevant expertise. So I bought in September 2001 a part of a collection of a Dutch fire fighter and fellow collector and various helmets of a French colleague.
Until the beginning of 2004, almost 170 different helmets of yesterday and tomorrow, from Germany and the half world got together and it was time to show this collection to a larger audience.
What would have been more obvious than the design of a suitable website.

With the beginning of 2005 I found two German helmet manufacturer, who supported my website in the form of term loans. With these helmets, I would be in the future a representative overview of the diverse helmets, that are in use in Germany now. In addition, I have presented in the newly added navigation point manufacturers, these first two manufacturers and their helmets.
At this point, my special thanks, once again, to the Company MSA Auer and Roemer Bullard.
Until March 2006 almost 260 fire helmets have come together. The website has been redesigned, visually enhanced and I offered the texts additional in English.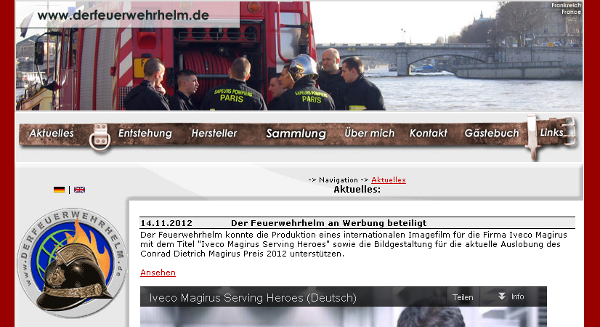 By the end of 2012, the collection has grown up to 450 helmets.
The site gets a facelift in November 2012, but still remains in her form.
Fundamental to my collection:
Not all helmets have been described by me in detail, often failed me detailed information on the individual pieces. Maybe some information from me are wrong.
The questions that I have, I want to pass on to you and ask: Let me know if you have answers to my questions or comments about my writing.
I am greatly appreciated about your help.
If you should have further interest to this topic, I would recommend you to various websites that I have listed in the links section.
Also highly recommended are the books by the following authors:
Bolko Hartmann
"Deutsche Feuerwehruniformen und Helme"
Verlag: Kohlhammer Edition Feuerwehr
ISBN: 3-17-008573-5
Thomas W. Herminghaus
"Feuerwehrhelme -
Eine Entwicklungsgeschichte"
Verlag: Florian International
Postfach 1241
63112 Dietzenbach
Ludwig Baer
"Vom Metallhelm zum Kuststoffhelm"
Druckerei: Henrici in Neu- Anspach
ISBN: 3-9803864-2-2
Finally, I would like to say that this collection is my hobby and will therefore be financed privately.
If you are in possession of a good old collector piece or a helmet of which you do not know where and what to do with, so you may be assured that this piece would get with me his own place and his own history as well.
For your support to expand my collection, I would be very thankful.
Markus Bruchmann
For assistance in the design and implementation of this website I would like to thank Daniel Cretu and Andreas Berger warmly. Without your support, this site would have been unthinkable.
Responsible for the facelift 2012: René Burghardt - http://www.designdumb.de/